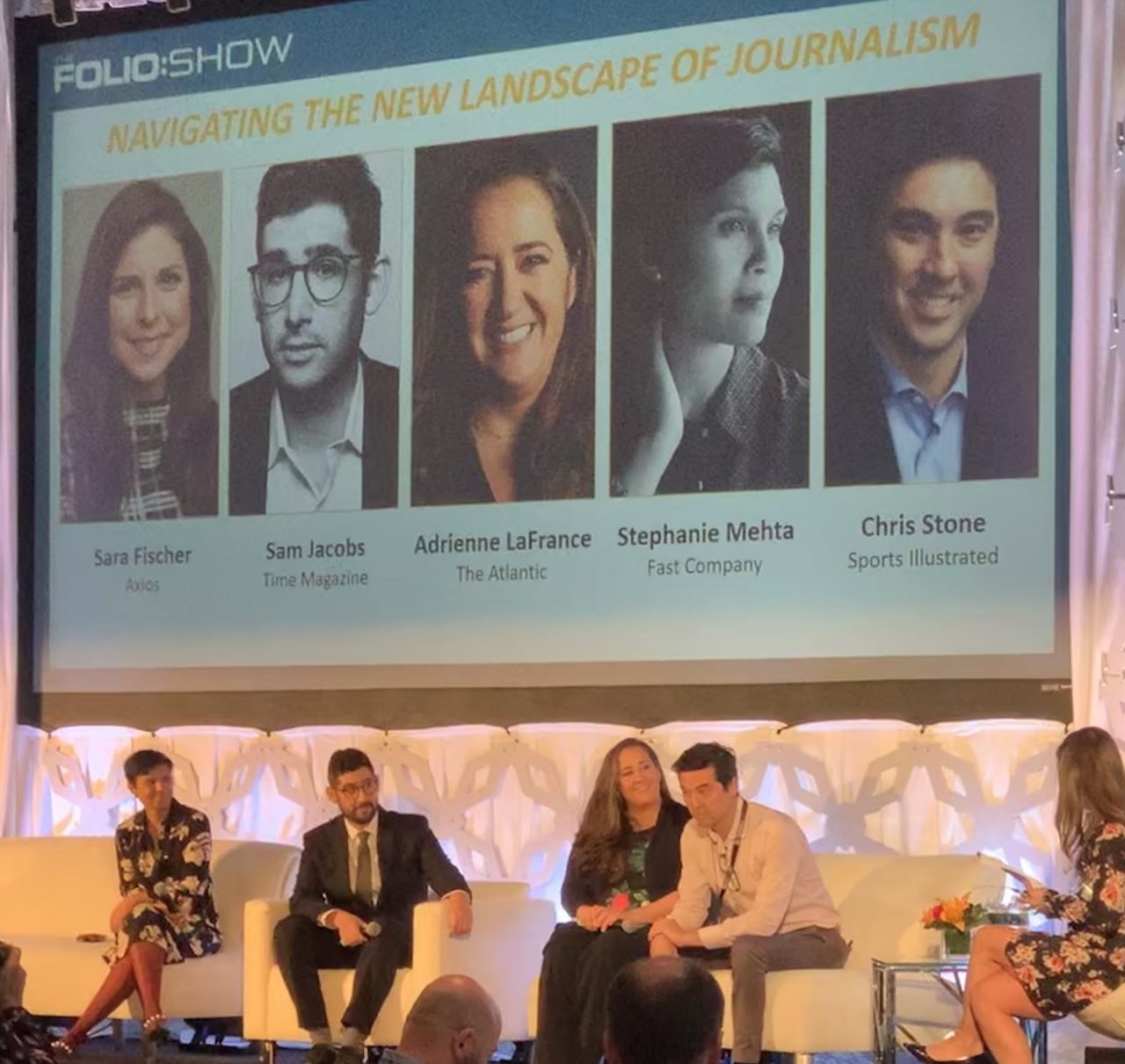 Over 700 attendees from publishers large and small convened in Midtown Manhattan on Wednesday for the opening of the 2019 Folio: Show—this outlet's annual industry conference for multi-platform media companies.
Linda Thomas Brooks, president and CEO of MPA—the Association of Magazine Media, hosted an opening panel featuring five top B2B and consumer media executives from Active Interest Media, Adweek, The Nation, Trusted Media Brands and Skift. In all cases, these publishers are not only building revenue, but are highly focused on building loyalty among their audiences. 
Panelists began by sharing the success, and in some cases failures, of membership models they have introduced. The Nation's president, Erin O'Mara, illustrated the success of the magazine's popular travel program that took off as a result of readers' appreciation for a specific, experiential content The Nation could provide, which included traveling to and exploring Cuba (a country the magazine regularly covers).
Active Interest Media's president and CEO, Andrew Clurman, noted that solving problems can create brand power, such was the case with their AAA-like insurance program for horseback riders, "If we're going to survive, it's not about trying to compete, it's about creating new solutions for brand loyalists," he said.
TMB's Bonnie Kintzer, Adweek's Jeff Litvack and Skift's Rafat Ali all agreed. Creating innovative opportunities for audiences to engage with a brand is top of mind, and it's the brand matched with quality, trustworthy journalism that empowers publishers to invest in new opportunities.
Ali, the CEO and founder of Skift, said his global travel industry intelligence company values being an authority for its audience and its partners. "Hire the right journalists and give them the freedom to do great work," he said. "Media is the simplest of sectors—find an area and report the shit out of it. Either sell to the audience or sell the audience." 
As Thomas Brooks pointed out, "editors are the original influencers."
The panel ended with a lightning round, in which Thomas Brooks asked each publisher which media outlet they read outside of their own:
Rafat Ali (

Skift

)

:

The Information

Jeff Litvak (

Adweek

)

: Axios
Bonnie Kintzer (Trusted Media Brands): Quartz

Andy Clurman (Active Interest Media): 

National Geographic

Erin O'Mara (

The

Nation

)

: 

The Onion
Rolling Stone's quest to do more…
Folio: content director Caysey Welton then sat down for a one-on-one with Gus Wenner, president and COO of Rolling Stone.
Wenner is hardly shy about disclosing the turmoil the brand found itself in not long ago (prior to its 2017 sale to Penske Media Corp.), stating he was "underwater." He shifted and evolved, but he didn't pivot, a term her prefers not to use.
"In order to succeed as a media company today, you have to have an extraordinary brand," he said, adding that the company's divestments and strategy to get above water centered around one, seemingly counterintuitive question, "How can we get the resources to put Rolling Stone in the position to do more?"
Today, he said, Rolling Stone is capitalizing on the brand's unprecedented amount of access to artists and celebrities, which in turn creates monetization opportunities. He pointed to the "Musicians on Musicians" franchise, giving readers access to intimate conversations between two artists from different genres—an opportunity that can also live across multiple mediums (print, video, online). Of course, in Wenner's opinion, none of this would be possible without quality journalists, and Rolling Stone has grown its editorial staff by 40% since the PMC acquisition, a testament, he said, to an investment partner who believes in the brand.  
Following the morning keynote was a panel of editors and journalists: Sam Jacobs, deputy editor at TIME; Stephanie Mehta, editor-in-chief at Fast Company; Chris Stone, former editorial director, Sports Illustrated, and Adrienne LaFrance, executive editor at the The Atlantic; moderated by Sara Fisher, media reporter at Axios.
Facebook's News Tab quickly become a hot topic to illustrate the changing landscape. Panelists all shared skepticism in tech companies entering the journalism field, implying that platforms haven't grasped the value that quality journalism puts on a brand, but they're willing to see where the experiment goes. 
As LaFrance, a former tech reporter, put it, "Anytime a tech platform is getting involved in news, news brands should proceed with caution… at the same time, tech companies have figured out something on audience engagement that news organizations are behind on."
Like the CEOs, this panel agreed that brand loyalty is built on quality journalism.
"For us, it's about excellence in storytelling," said TIME's Jacobs. "We're constantly thinking about how to re-invent the cover to flag our journalism."
Breakout sessions and the view from Meredith Corp…
In the afternoon, breakout sessions covered email marketing, print strategy, branded content, data privacy and podcasting, among other topics.
The email session featured Andrew Perell, director of email strategy & operations at Condé Nast, and Audrey Congleton, audience development director at 5280 Publishing. Perell's case study provided a deep dive of the company's recent email migration, which tapped into the data behind audience engagement and how brands can rid themselves of unengaged subscribers—focusing on engagement over list volume. 
In a session titled "How to Keep Print Sustainable Without Sacrificing Quality," Tony Lee, VP of editorial at The Society of Human Resources (SHRM) walked attendees through HR Magazine's transition from 10x frequency to a quarterly. Lee cited many factors for the change, but that, taken in tandem with the brand's digital strategy, actually increased engagement as a result of a new, stronger means of reaching the same readers on multiple platforms. 
He points to the launch of their weekly digital newsletter "All Things Work," that moved magazine-form writing to member's inboxes on the weekend, allowing the magazine to expand its focus and ultimately provide more content integration across platforms.
A session on sales partnerships gave attendees a look into brand power as it relates to advertising and renewals, with Bryan Kinkade, VP publisher of AFAR, and Dave Peterson, owner and publisher of Explorer Media, sharing strategies their magazines employ. Despite being different-sized brands and with vastly different sales goals, they agreed that innovative partnerships arise from brand expertise. In AFAR's case, licensing content has become a lucrative avenue to developing partners who want to showcase AFAR's travel expertise, which resonates with ancillary brands. 
A fireside chat on the main stage with the president of Meredith Magazines, Doug Olson, ended day one. Olson, whose publicly-traded company acquired Time Inc. nearly two years ago, is now one of the largest media companies in the world.
The company's strategy is to invest in strong brands, like HGTV's Joanna and Chip Gaines, whose Meredith-published magazine, The Magnolia Journal, sold out in 4 hours on newsstands when it debuted, he said. He also credited the company's ability to hire and retain talent, dealing transparently with its 6,000 employees and holding regular Town Hall-style meetings. In all cases, Olson says Meredith believes in brand extensions, but that content has to be at the heart of anything the try.
"Every time we invest in something, we don't regret it," he said. "At the end of the day, if you give the consumer what they want, they will vote with their dollars."
With the second-largest licensing business in the world, after Disney (over 3,000 Better Homes & Gardens-branded products can be purchased at Walmart), it's evident the company knows a thing or two about brand power.
Check out our day two coverage here.
The post Folio: Show Speakers Highlight Brand Power on Day One appeared first on Folio:.
Folio: Show Speakers Highlight Brand Power on Day One