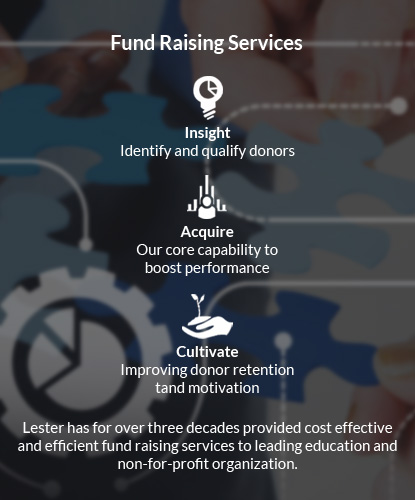 The core challenge facing education and non-profit organizations is that fund raising participation rates are declining, donor retention rates are static and lapsed donor reactivation rates are stagnant.
The fundraising landscape is rapidly changing due to the advent of social networks, crowd-funding platforms, cloud computing, analytics and mobile communication. These technologies offer the promise of improving donor participation, retention and reactivation rates for fund raising campaigns.
Lester's fund raising division's mission is to help education and non-profits to realize the benefits of these advancements by delivering superior rates of participation, donor retention and lapsed donor reactivation.
We have implemented thousands of successful personalized cost effective – annual fund, capital, membership and specialty – campaigns for leading Universities, Colleges, Independent schools and non-profit organizations. Lester's team of experienced and caring callers strive to improve retention rates, convert non donors, upgrade donors, re-engage lapsed donors and maximize giving back from alumni and communities.
Lester's offerings – Insight, Acquire, and Cultivate – provide an integrated solution that covers the entire fundraising cycle. These solutions are aimed at addressing three key challenges in fundraising: increasing new donor acquisition; reducing loss of existing donors; and reactivating lapsed donors.
Why Lester's Fund Raising Service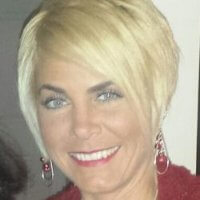 Casaundra Beach has been in the Customer Service and Call Center business for over 20 years. She joined Lester in 1998 starting as the Operations Manager for Lester's KY call center, where she successfully managed all aspects of the center for 16 years. Casaundra is currently our Director of Technology and Quality Assurance Services and oversees the technology processes, all data management, caller training, operations and quality assurance services for all of Lester's call centers.
Phone Number : 1-800-999-5265
Ext : 1216
Email Address : cbeach@lesterusa.com