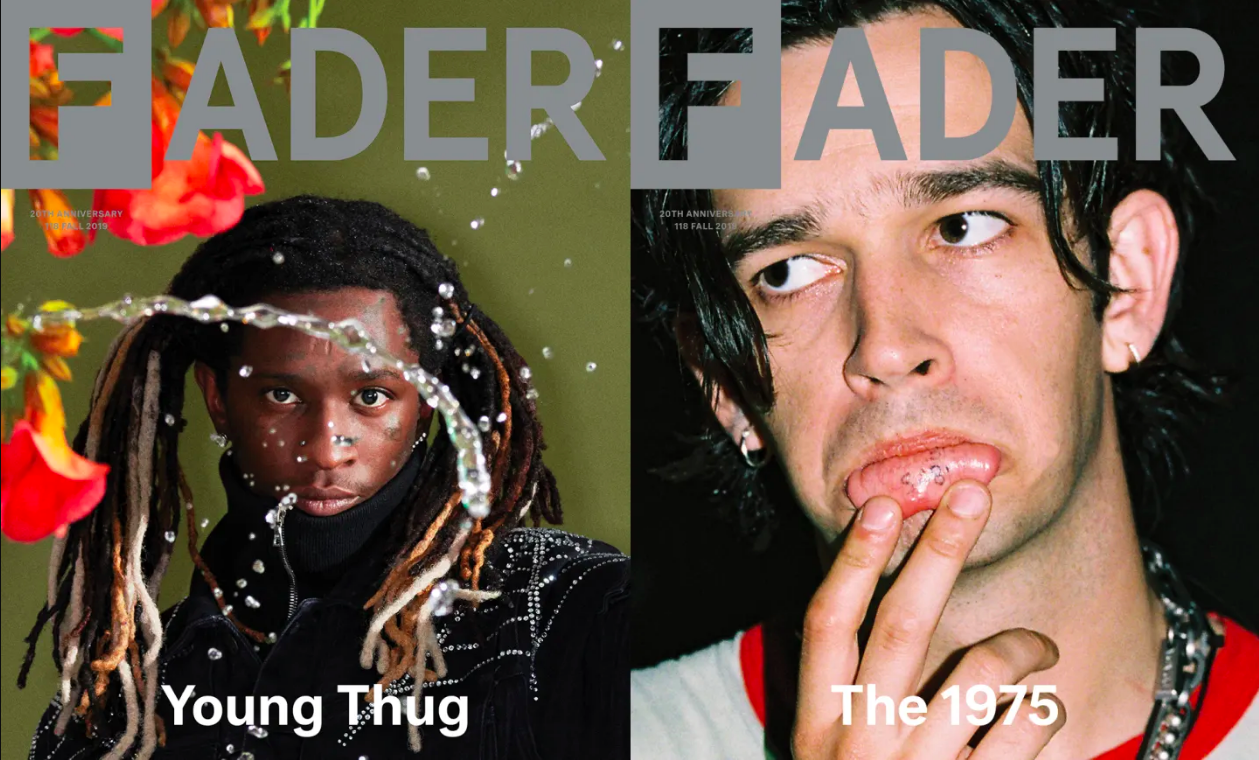 In terms of digital disruption, magazines were far from the only form of traditional media upended by the rise of the internet over the past two decades. So as a relatively small fish in a rather large and well-funded pond of publications covering the music industry—a space that's undergone its own painful digital transition—success for The FADER has always meant getting creative to defy the odds.
To wit: its debut issue in 1999 featured photocopied ads taken from other magazines to help lend it an air of legitimacy.
Now, as it marks its 20th anniversary, The FADER has evolved into a multi-platform brand attracting 3 million unique visitors every month, an annual music festival, an apparel vendor, a music label and at the center, a print magazine that's on the rebound.
Revenue-wise, 2019 has been The FADER's most successful year in print out of the last four, says president and publisher Andy Cohn, with single-copy sales up double digits over 2018. We sat down with Cohn for a reflection on the brand's first two decades, staying ahead of the curve, and why it has continued to invest in its print product even as many of its peers have faded away.
Folio: What's changed the most about The FADER since you joined the brand in 2003, and what's remained the same?
Andy Cohn: The thing that I'm most proud of about FADER is that we've never changed our mission statement. We've always been about discovering artists ahead of the curve, all the way up through them hitting the mainstream.
By sticking to that and keeping it the same, it's informed our ability to change the way that The FADER is put out into the world. When I first got here it was just a print magazine, then we started a website and started making posts, but the way that we expressed FADER never changed.
There were times, like in 2008 when print was decimated and display advertising was not catching up with the losses in print advertising, we saw a lot of our competitors cutting back on print and going to the internet to write about anything and everything. They were becoming more mainstream, covering the biggest artists in the world because they had to for survival. We never went down those roads, we never started doing like the 10 hottest girls or guys in hip hop and R&B, or the coolest cars driven by famous people.
Folio: How did you manage to survive without giving into those temptations?
Cohn: We stuck with strong storytelling, we believed in print as a way to really take our time while we used the internet for speed. We weren't going to be one of those magazine publishers who was going to go down with the print ship; we were very nimble. Being an independent publisher with no board of directors, we were able to stick to our guns and find other ways to make money. We were doing things like tying events to print or digital before it was in vogue.
We could have joined an ad network, but we didn't want to be just another site in a network of 100,000 sites and blogs, where it was just to say they had 100 million people coming every month and could sell display advertising for more money.
While those things are attractive when your revenue is shrinking and you're losing all of your print advertising, we chose to be scrappier and keep the brand strong, but diversify.
Then when it came to video and social media, we were always just platform agnostic. Wherever our readers are, however they want FADER, we're going to give it to them and not be beholden to one medium.
Folio: In what ways has that freedom to say no to things allowed you to stay true to your mission?
Cohn: We built the business realistically. We wanted to stay profitable at whatever size we were. There were times when we had serious discussions about expanding the aperture of our coverage or starting to do reviews or lists—things that are kind of lower-common-denominator. It just never felt right for the brand. We built it brick by brick, even if it's not going to grow a certain amount every year. When you're publicly traded or have venture capitalists or shareholders, that's what they want.
We took the more difficult path, but it's also why we are still around 20 years later and have artists clamoring to get coverage in FADER.
Folio: Is it more difficult now to be an outlet for discovery when streaming and social media have opened up so many new ways for artists to engage with fans directly?
Cohn: I think the streaming platforms and algorithms are incredible for music discovery. For me to say it hasn't changed our approach in business would not be fair, because it absolutely has. The cycle of someone going from being a nobody on the cover of FADER to becoming super famous is now more a matter of days, weeks or months, not years.
When we put Drake on the cover in 2009, it took a couple of years for him to become Drake. Even with Frank Ocean, it was still a year or two later that he really became a household name. Same with Kendrick [Lamar]. Now, the timing is a little bit different, but there's still a need for human curation and contextualization and storytelling. You can go to the streaming platforms and discover an amazing artist, but the real audience for FADER wants to know more about who that person is.
When you have so much new music being uploaded every single day, people kind of want to be told, by certain people that they trust, what to check out. We've had over 300 covers since 1999, and I think our batting average is pretty good. If you look back in time, we look like we were a mainstream magazine, but when OutKast was our cover [in 2000], people at the time were like, "Who are these guys?"
We've built up that credibility, so when people hear a new artist out of nowhere, they can go to The FADER and see who this person is all about. And the opposite is true, too. When we put Megan Thee Stallion on our cover, our readers will trust that she must be somebody and they'll go to her Spotify and listen to her music.
Folio: When your summer music issue came out in June, you sent out a tweet emphasizing your four "non-digital covers covering an actual magazine that gets printed." What's your opinion on magazines putting out "digital covers?"
Cohn: It's one thing that drives me nuts. Like, what is it covering? They're just feature stories. The difference is that with print, there is permanence. Nothing can be deleted; it's handled with care and created in a very non-2019 type of way. I have a 12 year-old and a 15 year-old, and they covet tangible things. They walk around with their phones like every other kid, and it's all disposable and here and gone in minutes.
There is such an inundation of great and innovative stuff, but also trash. I'm not trying to bash people, but so much content is clearly not edited and done for speed over quality. A post about some rapper on a site that has literally 100 posts a day is now at the point where it's seen as white noise. To stand out online, something has to be so specific and organically viral.
We actually doubled down on analog; we partnered with the record club Vinyl Me Please to produce a vinyl album as a companion to the 20th anniversary issue, and we sold hundreds of pre-orders without even a track listing. They're two beautiful pieces that can sit on a table or a shelf.
Our print sales were way up last year, and this year they're going to beat last year. This vinyl bundle has far exceeded what I thought it was going to do, and we aren't even far into the marketing of it yet. We're at a time when you're just getting hit with so much content and endless scroll and feeds, and I think there's more value in print than ever before.
We're even seeing advertisers come back. We're having our best revenue year, in terms of print advertising, over the last four years. And it's driving revenue in other places. Our shop has been on fire, selling physical merchandise—hoodies, T-shirts, on-demand printing—we sold 500 Young Thug cover posters in the first five hours. So in terms of keeping the brand strong and finding the right extensions—not opening up like, FADER restaurants—having the physical cover is an amazing leverage point for us.
Folio: How does the value of the print magazine extend beyond the page?
Cohn: It's the anchor. If I do say so myself, it's not a crappy looking magazine. It's a beautiful, physical, coffee-table magazine, so when YouTube comes to us to create video content with them, they know that we have that right aesthetic and a high-end artistic value that we believe in and protect.
Folio: How does a 20-year-old music magazine manage to keep its finger on the pulse and stay ahead of the curve?
Cohn: At other music publications, you can end up being the music editor for 20 years. There is no way you can tell me that 10, 15 years into that job, that editor is still as tapped in to what's next in music and what's cutting edge as when they were in their 20s. At an emerging magazine, it's important for there to be some natural turnover of the staff. People like [former editor] Will Welch, who is now the editor-in-chief of GQ, or [former EIC] Alex Wagner who is now a CBS correspondent and co-hosts a series on Showtime, these people are our alumni and they come to our events and celebrate our wins. They almost graduate from FADER at a certain point and move on.
If it was just [co-founders Rob Stone and Jon Cohen] and myself, FADER would have lost its way a long time ago. We would almost be better off having my 12-year-old son running things. FADER has never been about a celebrity editor or one vision; it's a collective. That's really been our secret. It's created by an amazingly diverse group of young, tapped-in people who understand the brand and have great ears and eyes for understanding what's happening in culture and music.
Folio: You mentioned advertisers coming back to print. As the publisher, what's your pitch to brands when you don't necessarily have the scale of some of your competitors?
Cohn: I think it's to cover their future and to hit a different type of psychographic—someone who is super passionate. When you look at mass media, where you're getting a $5 to $8 CPM, and you're hitting a million people a month with display advertising for a big brand like a Budweiser or a Toyota, I get why certain high-level advertising needs to happen.
At the same time, these brands can get an event series, integrated with digital content, social, video, print in a package that's going to hit our audience for the cost of one second of a 60-second Monday Night Football commercial. A young person who is super-engaged is attracted to FADER because we help create culture, we're not just covering things that happen, and I think that mindset is very appealing to brands.
Folio: We hear a lot about media brands and publishers evolving into creative agencies for their clients. Has that been your experience?
Cohn: Oh, yes. There are brands that have us on retainer for cultural insight reports, tapping into our creative team or just to look at things they're doing and tell them whether it's culturally relevant. We've been able to develop those types of services as people who are truly connected and play very a different role than a traditional magazine might play.
Folio: Looking forward, where do you see your biggest opportunities?
Cohn: We've done the FADER Fort in Austin for the past 17 years, but this year we partnered Fort with other festivals for the first time. Governors Ball brought us in to do a Fader Fort artists lounge with Russell Athletic, and we had our editorial staff spread out all over the festival covering it through our channels, so FADER became the content amplifier for the festival.
When Pharrell launched his festival in Virginia Beach, we created a FADER Fort venue there and booked artists and helped to amplify the rest of the festival, which was really successful. Now, in October, the FADER Fort is going to be branded on the center stage for A3C, the hip-hop summit and festival in Atlanta, and we have Crown Royal underwriting that whole partnership. So experiential is a really big area of expansion for us, and now we have other festivals reaching out.
FADER merch and our shop, with very little investment and expertise, has taken off to mind-blowing levels. I think that goes back to the idea of tangible things. People can like these Instagram accounts and follow these websites, but ultimately getting a hoodie or a poster is just cool. And it's because we have a strong brand.
Video—TV and film—is another thing. Things like documentaries being filmed that want to license clips from our archives, stories we've done in the magazine that we have options to turn into full-length films. We have a documentary on Hot 97 and the history of Summer Jam that we've been producing for the past few years.
And then our music label, the FADER Label, is becoming a really profitable part of the business. These are all things that are in line with the brand, and then when they begin to take off we double down on them. But who knows? Tomorrow it could be something new.
Folio: How do you decide what that new thing might be? What's worth trying out and experimenting with or which extensions might be detrimental to the brand?
Cohn: I literally walk into the FADER fishbowl, which is like a big room that has the bulk of our editors, and just throw things at them, and all I have to see is their faces. It's really not scientific. If I walked in there right now and said, "Hey guys, we're going to be co-branding seven Chick-fil-A locations on the East Coast," nobody would even turn their head around at me. But if it was a good idea, they'd tell me.
I have a team that's not shy; our focus group is the collective. There are times when we'll disagree, but they're a good litmus test. They're young and they're the audience and most of them are here because they grew up reading FADER, as scary as that is to me.
I think a lot of leaders at companies think they're the ones that are supposed to have the answers. I don't feel that way. I want to make sure I have people that have the answers. That's my job. I want to make sure I have people that understand and respect the brand and the history and have an idea for the future and where they want it to go, and then I empower them to do their thing.
The post 20 Years Later, The FADER Stays True to Its Mission appeared first on Folio:.
20 Years Later, The FADER Stays True to Its Mission