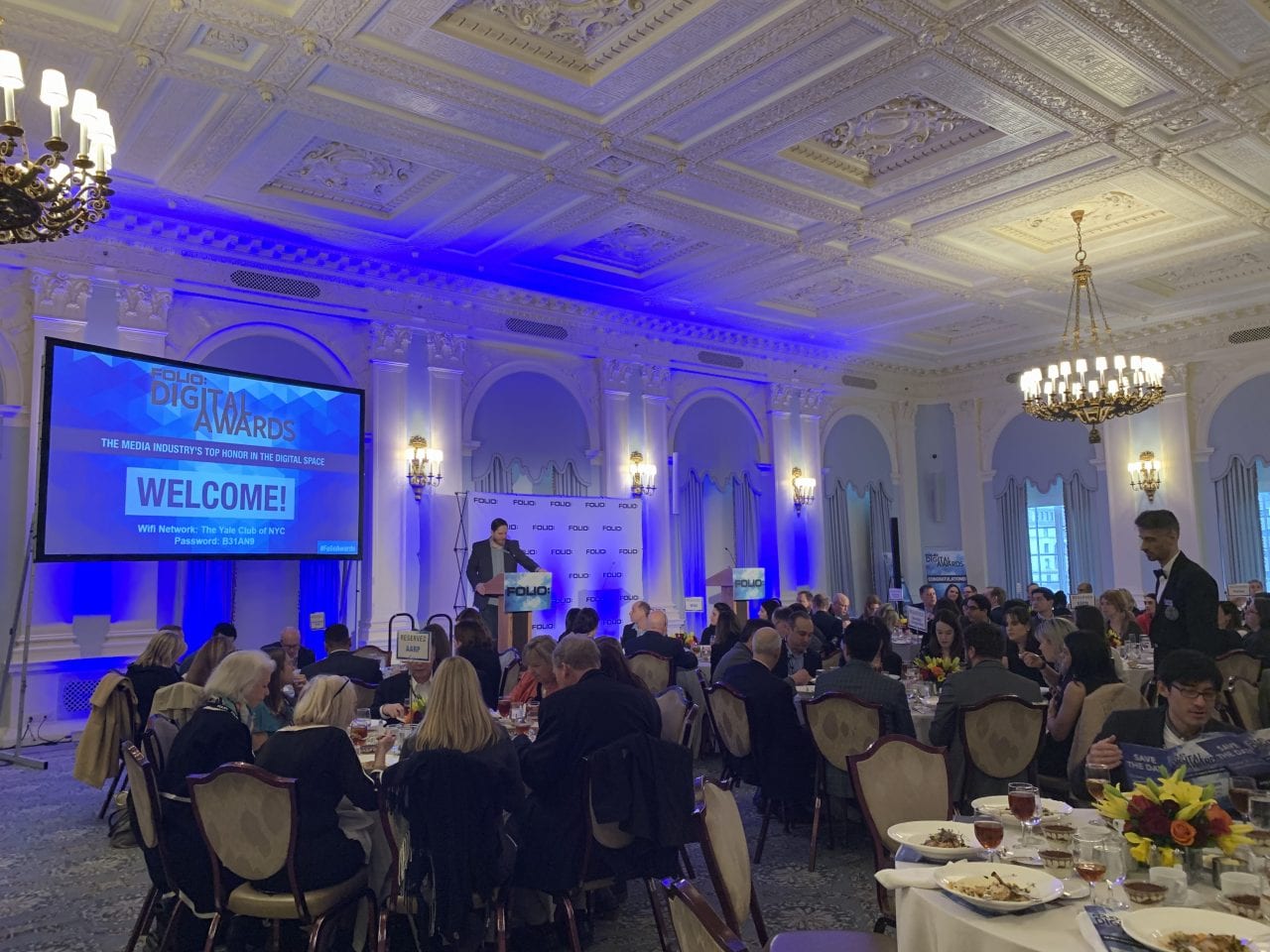 NEW YORK – Digital executives, thought leaders and creators from across the magazine media industry gathered in the Yale Club Ballroom in Midtown on Thursday to celebrate this past year's greatest achievements in online media at the Folio: Digital Awards.
Twenty different prizes, ranging from Best Digital Magazine to New Digital Product to Digital Executive of the Year, were presented to the top teams from a variety of publishers like AARP, Meredith Corp., Slate Magazine and ESPN.
Throughout the luncheon, which was hosted by comedian Neko White, four new publishing execs were also inducted into the Digital Hall of Fame, which recognizes each person's outstanding career-long contributions to digital media. This year's inductees were Jason Fox, VP and chief digital officer of Consumer Reports, Margi Mannix, AARP's VP and editor-in-chief of digital and content, Clarissa Matthews, Director of Product Management and Planning at The Atlantic, and Stan Pavlovsky, the EVP and President of Meredith Digital.
The Hall of Famers shared some of the wisdom they've collected from throughout their careers, including the ways they've overcome obstacles facing the digital publishing space.
Leonora Weiner, Consumer Reports' SVP and chief operating officer, introduced Fox, saying that he was her first hire after joining the company and that since he's come aboard, he has helped to revive the brand's entire digital operation. That is also what Fox says is one of the most exciting parts of the job, "having the opportunity to be a part of the biggest transformation in the organization's 83-year history."
Pavlovsky said that this recognition would not have been possible without the help and support from his team, and that because this is his last week at Meredith before he joins Shutterstock, this award is a bittersweet one.
Hayley Saltzman, director of social media at Bustle Digital Group, and Jay Webster, VP of integrated markets at Forbes and last year's digital marketer of the year winner, served as guest presenters and helped to present some of the awards, including the prize for digital excellence, which went to Meredith Corp.'s The Foundry @ Meredith for its work in raising branded content viewability up by 300 to 400 percent across over 1,000 campaigns.
Individual and team-specific awards were also presented at the end of the ceremony. The prize for best Audience Engagement/Community Manager was awarded to 5280 Publishing Inc.'s audience development director Audrey Congleton for her work in garnering 55,000 new email subscriptions last year alone. Next, the title of Product Team of the Year went to Bloomberg, whose media product team created several cross-platform products that both grew subscriber and advertiser engagement last year.
WWD's chief business officer Paul Jowdy earned the title of Digital Executive of the Year because of his accomplishments in scaling revenue streams to achieve record highs and leading his team in growing the brand's global audience by over 10,000. He thanked WWD's parent company, Penske Media Corp., who acquired the brand in 2014 and "turned a 108-year-old newspaper into a very innovative media company that it is today."
Finally, Consumer Reports was the winner of the coveted Digital Team of the Year award due to its Digital and Technology Operations team achieving one of the most important milestones within the brand's 83-year history: the launch of its new membership model.
"What made us so successful was obviously teamwork, but also a shared purpose of Consumer Report's vision," said the Digital Team of the Year winner, the company's Marketing and Digital and Technology Operations.
View the full list of winners and finalists here.
---
Honored to announce that @slate received the award for best redesign @ the @foliomag Digital Awards! Huge shoutout to everyone on the dev, design, and edit teams for all of their hard work, and particularly to @jasonsantamaria, without whom, none of this would have been possible.

— Lisa Larson-Walker (@lrsnwlkr) March 21, 2019
Congrats to Margi Mannix, @AARP's VP & Editor-in-Chief of Digital & Content, for being a @foliomag 2019 Digital Hall of Fame Honoree. Margi's leadership of our digital content strategy is key to our mission of empowering people to lead their best lives. #FolioAwards pic.twitter.com/PNSsVmuXLH

— Martha Boudreau (@MarthaBoudreau) March 21, 2019
https://twitter.com/msh200/status/1108791813635297280
The post Consumer Reports Named Digital Team of the Year at the Folio: Digital Awards appeared first on Folio:.
Consumer Reports Named Digital Team of the Year at the Folio: Digital Awards