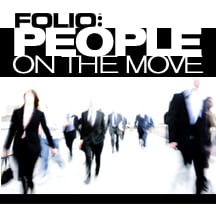 The Financial Times announced Roula Khalaf as its next editor, making her the first female top editor at the FT in its 131-year history. A 24-year veteran of the FT, Khalaf most recently served as deputy editor—a post she has held since 2016—and previously as foreign editor and Middle East editor, among other roles.  
"I am delighted that Roula Khalaf has agreed to take the position of editor," said Tsuneo Kita, chairman of the Japanese newspaper publisher Nikkei, which acquired the FT in 2015. "I have full confidence that she will continue the FT's mission to deliver quality journalism without fear and without favor, inspire and lead a team of the most talented journalists and pursue the FT's new agenda covering business, finance, economics and world affairs."
Khalaf succeeds longtime head editor Lionel Barber, who announced he's stepping down after 14 years in that role and 34 with the outlet altogether.
Here are the rest of this week's people on the move…
Robert Albritton, publisher of Politico, announced the launch of his new tech-media company, Protocol, on Tuesday, as well as the team behind it.
Joining Albritton in leading the media company are: Tammy Wincup, president; Tim Grieve, executive editor; and Bennett Richardson vice president and general manager.
Wincup is tasked with building and running Protocol. She moves to the media venture from private equity firm TPG's The Rise Fund, where she served as senior adviser, she also served as COO at EVERFI, an education technology company. As executive editor, Grieve will oversee a team of over 30 technology journalists located in San Francisco, New York, London, and Washington, pulling from his experience as the founding editor of Politico Pro. After Politico but before Protocol, Grieve served as editor-in-chief of National Journal and VP of News at McClatchy. Richardson also moves from Politico, where he most recently served as executive director of global strategic partnerships. At Protocol, he will oversee revenue and marketing.
Additional Protocol hires include:
Emily Dreyfuss

as editorial director, moving from

Wired

where she was a senior writer. 

Joanna Pearlstein

 as managing editor, also from

Wired

where she was deputy editor.

David Pierce

as editor-at-large, from

The Wall Street Journal

, where he served as a technology columnist.

Vivyan Tran

as head of digital, from

The Wall Street Journal

, where she was most recently deputy editor of audience and analytics.

Jamie Condiliffe

as newsletter editor, from

The New York Times

where he edited the "Dealbook" newsletter and authored the "Bits" newsletter.

Mario Aguilar as senior editor, leaving his post as Gizmodo's deputy editor.
Kevin McAllister

as associate editor, also from

The Wall Street Journal

,

where he was a data and rankings reporter.

Linda Kinstler

as contributing editor, also from

Politico

where she was an editor of the European edition.

Reporters hired include:

Matt Drange

from

The Information

,

Adam Janofsky

from

The Wall Street Journal

,

Emma Johanningsmeier,

 the former editor of Stanford University's

The Fountain Hopper

,

Issie Lapowsky

from

Wired

 and

Charles Levinson from Reuters.
Adweek hired Ian Zelaya as an experiential marketing reporter, covering the impact of live and engaging marketing advances such as pop-ups, takeovers, immersive tech and branded events. Zelaya moves to Adweek from BizBash, where he was a news editor.
Kavya Balaraman has joined the editorial team at Utility Dive, a vertical of Industry Dive, as a reporter. She will assist in covering news and trends affecting the utility industry. She has most recently served as a staff writer at California Energy Markets and before that, at E&E News.
The Texas Tribune has appointed Rebekah Allen as news editor. Allen previously served as a reporter at the Dallas Morning News, covering state government and the Texas Legislature; prior to that she wrote for The Advocate in Baton Rouge, La. as an investigative and special projects reporter.
Joining Variety is Adam B. Vary as senior entertainment writer, covering breaking news, contributing to the brand's video content studio and producing covers stories and inside features. Vary moves from BuzzFeed, where he has spent the last seven years as senior film reporter, and prior to that contributed to Entertainment Weekly. Based in Los Angeles, he will report to editor-in-chief Claudia Eller. 
Bethany Allen-Ebrahimian joins Axios as its China reporter and will oversee the China newsletter. Allen-Ebrahimian has covered China since 2014, and has previously served a reporter on national security for the Daily Beast and a reporter and editor for Foreign Policy.
The post Financial Times Names New Top Editor | People on the Move appeared first on Folio:.
Financial Times Names New Top Editor | People on the Move