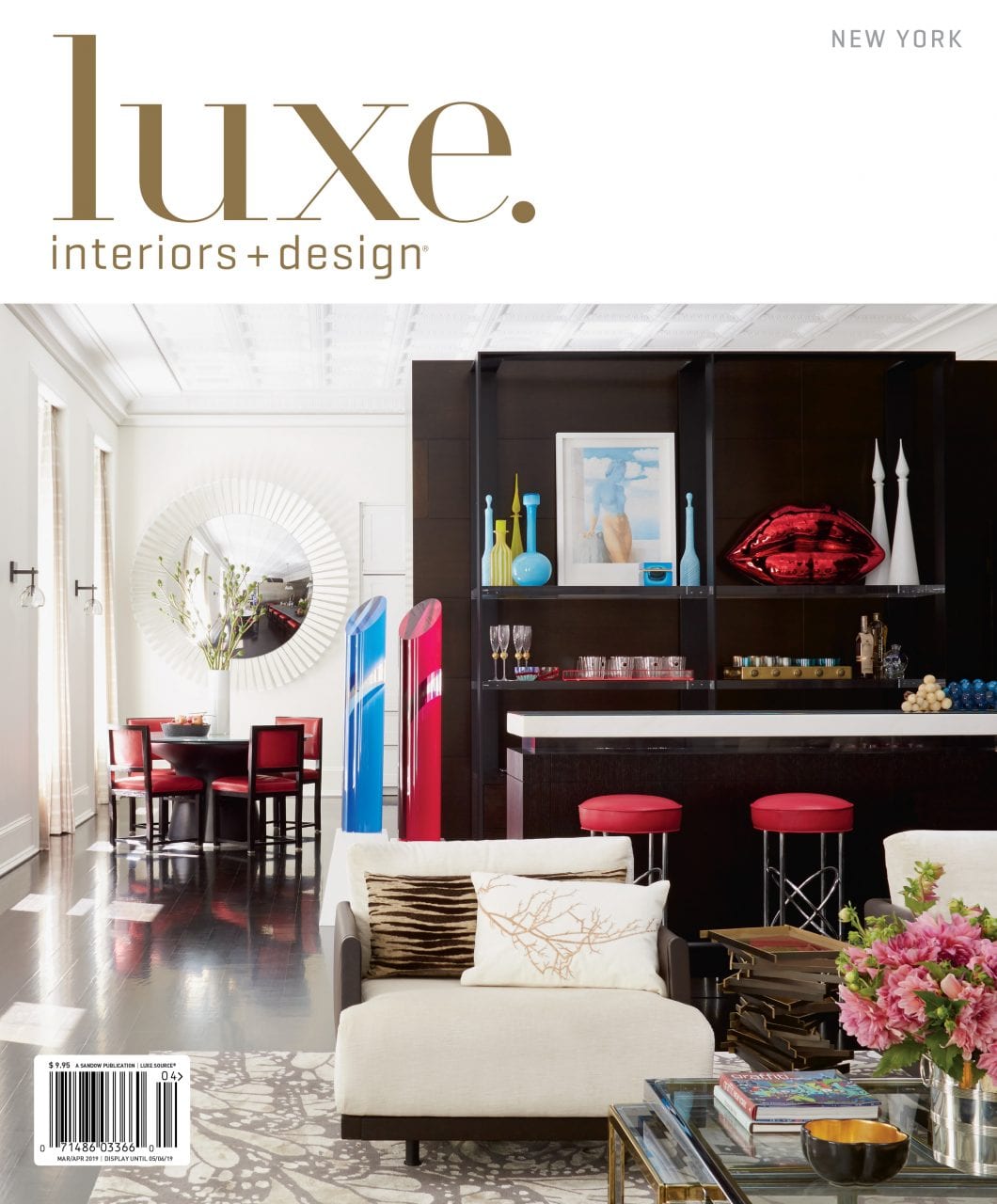 Challenges facing the print advertising economy have generally not spared shelter magazines. Across the category, page counts are falling, sales and edit teams are consolidating and investment is being diverted toward more promising digital and experiential offerings.
But emphasizing a hybrid, regionally focused yet nationally reaching, controlled-circulation approach, meant to allow advertisers to target specific segments of super-affluent (and purchase-inclined) readers, Sandow's Luxe Interiors + Design believes it has found a solution to convince both endemic and non-endemic marketers to continue investing in print.
"Other magazines are putting their emphasis on digital, which is fine, but we're approaching it from a different angle," says group publisher and chief revenue officer Katie Brockman, who joined Luxe in 2017 after 14 years at Hearst's Veranda. "We're saying that in order to speak to this luxury audience, you have to deliver a luxury product. So we continue to put resources behind it, from the quality of the paper to the content to the range of photography."
The strategy appears to be working. Luxe was up 3 percent in print revenue last year, raised its rate base (to 480,000) for the first time since 2014 and just this week, closed its May/June issue up 12 percent over 2018. Perhaps most distinctively, the magazine's traditional advertisers—appliance and furniture brands, window and door manufacturers, interior design firms—are increasingly being joined by non-endemic luxury brands, from Ferrari to Tiffany & Co.
Throughout Luxe's 14-year history, its value proposition to advertisers has always involved its deep roots in the regional markets it serves, following the philosophy that design and architecture are inherently local. What began in 2005 as single title serving the Colorado market has since evolved into a national operation with 14 regional editions from New York to the Pacific Northwest (a 15th, serving the Southeast region, will debut in May), each with its own dedicated sales and editorial teams reporting up to Brockman and founding editor-in-chief Pamela Jaccarino, who ensure cohesion on the business and content sides, respectively.
While certain aspects of each issue, like Jaccarino's editor's note and the front- and back-of-book departments, remain uniform, each regional edition gets its own specific cover, feature well and mix of ad pages. It is an inherently expensive and logistically challenging undertaking from a production standpoint, but one that Luxe considers worthwhile.
"We've always believed that design is local and that design should be in context with the landscape," Jaccarino tells Folio:. "From a content perspective, Luxe digs deep into communities across the country to report architecture and design stories. Our editors are spread across the country, living in the communities they report on. It's a different approach that's served us and our readers very well."
From an ad sales perspective, this means that a highly endemic brand like Sub-Zero appliances can run across the full national portfolio, but can also double-down in the markets it wants to prioritize by increasing its print buy or integrating itself into one of Luxe's more than 300 annual events. Now, major international luxury brands—the Fendis and Harry Winstons of the world—reevaluating their media strategies amid questions about digital advertising, are coming to Luxe to help address the same types of marketing challenges.
"A big conversation in our industry is the lack of trusted content as well as the lack of trust in marketing, period," says Brockman. "The one thing they know they can count on from Luxe is the fact that we're delivering the right clientele, at the right time in the right place."
While these international brands will always need to devote a certain portion of their media spend on global branding, Luxe's position is that the affluent consumer no longer places the same emphasis on labels alone that he or she used to. They want something they feel is customized, and thus, luxury brands need to be able to speak to consumers in their local communities.
Brockman says Luxe's dedicated regional teams, across which 53 salespeople serve as local consultants to advertisers and operate year-round—as opposed to just producing one-off or seasonal issues—helps to differentiate it from other shelter titles.
"It would be easy for us to cut our staff down to save money, but it is only with 53 sets of feet on the ground that we can truly be plugged in and connected," says Brockman. "We're essentially acting as marketing agencies for our clients, so our sales teams have to be able to speak about print and digital and events and branding and marketing services and custom publishing. Our clients are turning to us for everything."
---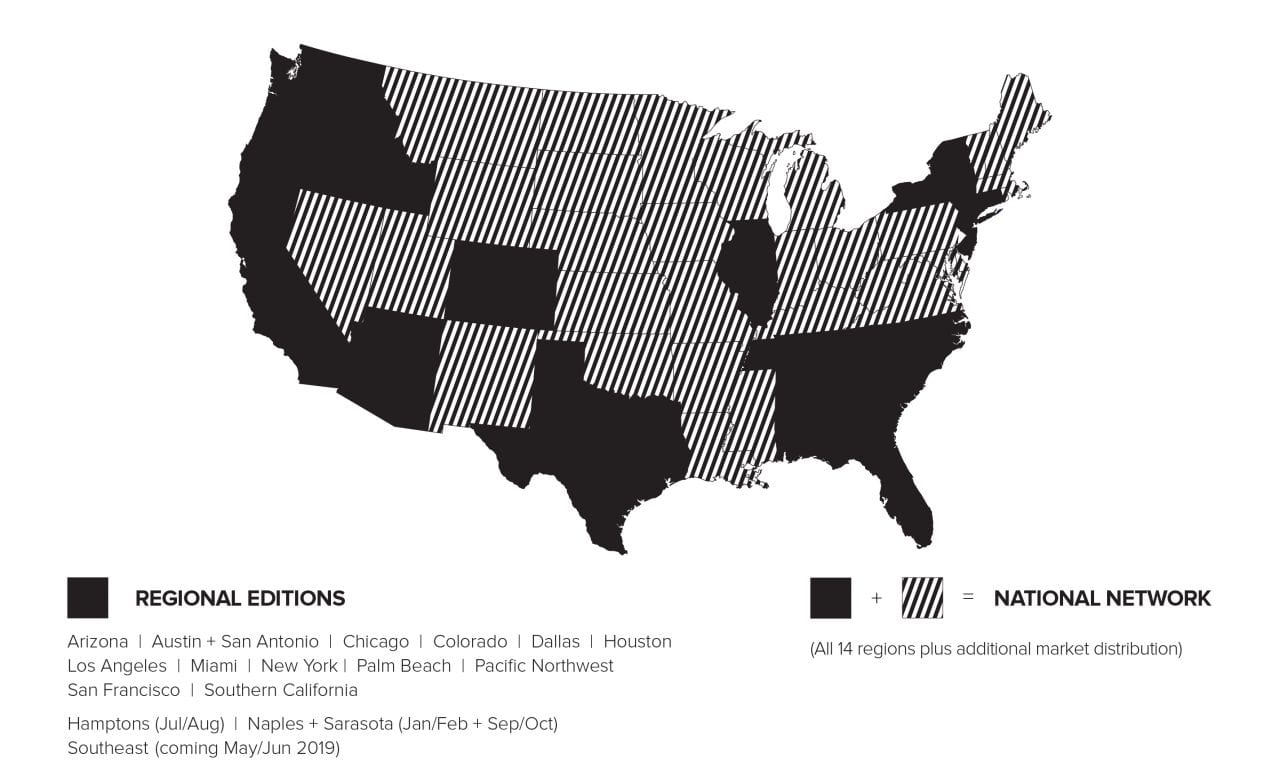 ---
Meanwhile, the book's tangible aspects—its 9″ x 10.75″ trim size, high-quality paper stock, 200-plus page thickness with each bimonthly installment—is what allows a Van Cleef & Arpels to consider its pages worthy of the brand. After all, an affluent consumer is an affluent consumer, regardless of whether the magazine he or she is reading covers fashion.
This is where the distribution strategy comes in. While Brockman is happy to mention Luxe's growing circulation, she emphasizes that the strategy isn't just about scale. Apart from some limited distribution at select retail showrooms, luxury hotels and private jet terminals (and an average of around 60,000 $9.95 newsstand sales per-issue), 71 percent of the copies of each issue are distributed to a tightly controlled list imposing minimum household incomes and property values of at least $1 million each.
It's a quality-over-quantity approach, Luxe argues, that drives ROI for both endemic advertisers and large luxury brands, and one that goes back to the central idea of investing in the print product as the center of the brand. When consumers can buy subscriptions to competitive titles for as little as $12 per year, it might provide them an attractive rate base to bring to advertisers, but it says little about that audience's purchasing power.
Of course, not every media brand has the benefit of an average reader worth $9.4 million (Folio: notwithstanding), but that doesn't mean there aren't widely applicable lessons to be learned. By closely guarding its distribution list, investing in a print product that provides a utility as much as an escape and adapting to meet advertisers' needs, Luxe—still a new kid on the block relative to its competitors—has found opportunity in a crowded sector.
Brockman says Luxe generates ROI for advertisers because readers aren't just idly flipping through its pages, but actively using it as a resource and a tool—a trend other shelter titles are picking up on.
"I want actionable inspiration," Joanna Saltz, the new editorial director at Hearst's House Beautiful told the Washington Post last week about changes she's making to that magazine. "I want readers to see beautiful things, but also make them happen in their own homes."
Asked how Luxe manages to maintain a primarily ad-driven business model—newsstand sales make up just 12 percent of overall distribution—which actually increased print revenue last year, Brockman says its about the direct response its advertisers receive from readers.
"They wouldn't continue to advertise unless they actually got calls, and they do," she adds. "We get tangible results."
The post Focusing on the Ultra-Rich, Luxe Interiors + Design Brings Marketers Back to Print appeared first on Folio:.
Focusing on the Ultra-Rich, Luxe Interiors + Design Brings Marketers Back to Print