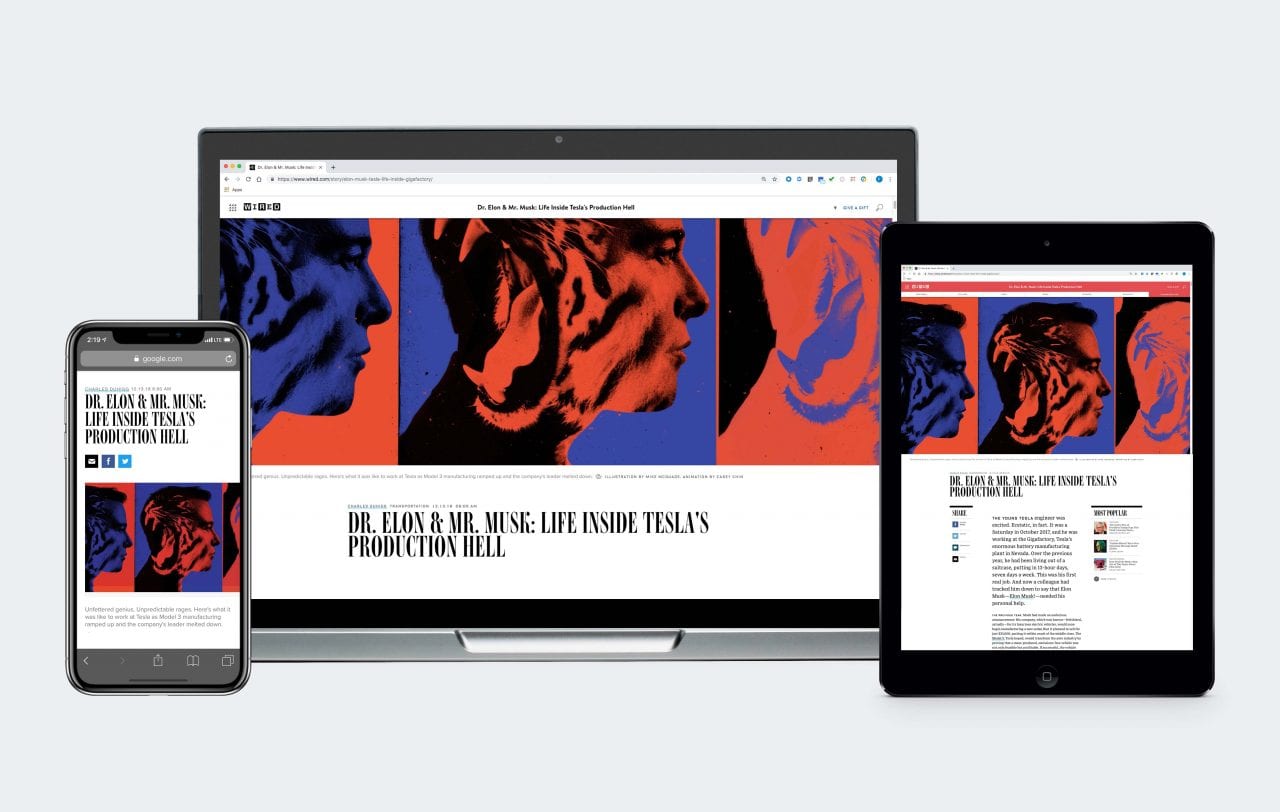 A year after launching its paywall, Wired isn't done testing out new ways to capitalize on this and other consumer-based revenue models.
Between launching its new Get Wired app in October of last year, leading Condé Nast in its first OTT video venture and building up its newsletter offerings, the 25-year-old magazine brand is strategizing for deeper engagement. And while most of the platforms require users to open their wallets to gain access to more than a limited selection of content, the brand's leaders want to make sure that those who are buying in are getting their money's worth.
For Wired's editor-in-chief, Nick Thompson, the paywall wasn't a new concept, even though it was one of the first three set up under Condé Nast's roof. Previously the editor of the NewYorker.com—before joining Wired at the start of 2017—Thompson introduced its online paywall, which contributed to a 130-percent increase in annual subscriptions, and then rode that wave of success over to Wired, modeling its paywall off of The New Yorker's.
"A lot of the things we learned at The New Yorker, we took over to Wired and a lot of the debates we had at The New Yorker, we didn't need to have at Wired. There were a series of decisions like that that we were just able to piggyback off of," he says, noting that it was an easy sell both internally and externally, because Condé knew the model worked and the Wired staff immediately saw the benefits of putting one up.
The only group that needed to be sold was the readers.
"Wired's audience is a little more tech savvy, they're a little bit more likely to know how to get around porous paywalls," says Thompson. "They're also a little more likely to ideologically be opposed to paywalls."
And while that fact didn't directly influence the decisions going into building the paywall, one difference was that Wired's included the subscriber benefit of getting an ad-free digital experience, which is something that the brand's readers explicitly expressed they wanted—and has, so far, worked.
"Our subscription numbers were amazing," he says. "They're over 100,000 subscriptions in the year after we launched the paywall, which is a crazy number when you compare it to the number of digital subscriptions we had the previous year." With roughly 30,000 subscriptions prior to the paywall, the number is up 272 percent YOY.
This area of revenue is also one of the fastest growing streams for the brand, according to Thompson, and while 100,000 people signing up for the introductory offer of $10 for a year of both print and digital access may only seem like an incremental number, the lifetime value of each subscriber is what he and his team see the promise in.
Following the first year, the renewal rate is $19.99, but similar to The New Yorker—which doubled its renewal rate during the time Thompson was there—he hopes Wired will also be able to increase its price and justify doing so by adding value to the subscription in the form of more writers, platforms and integrations with other products.
Since the paywall launched at the end of January 2018, site director Scott Rosenfield says his team has been testing different iterations of promotional strategies, pricing and more in order to ensure incremental growth.  
"It really runs the gamut as to the tests we might do and the results can be really surprising," says Rosenfield. "One quick one is how we communicate sale pricing. Having a strikethrough on the number or just having the new, lower cost, we found that some of those approaches works really well for us. Tiny little things like that you may not think matter, but it does."
Naturally also driving a bump in print subscriptions, Thompson says that next issue of the print edition will be "refreshed," in order to give readers way to engage deeper within that platform, particularly by including more long form features because "it turns out that long features tend to over-index on the likelihood that they'll get people to subscribe."
However, Thompson clarifies that the refresh doesn't equal a redesign, and that while a complete overhaul of print might have been the right approach a decade ago, "it's probably not the right approach right now. The days of big redesigns with art directors staying up all night and things pinned to the wall and late night decisions on fonts, those days are done."
Going forward, he says that any change made on one platform should be reflected across all of them, since they're all integrated.
Reaching loyal audience's inboxes
According to director of audience development Indu Chandrasekhar, one of the biggest converters for turning casual readers into subscribers is newsletters, which contributed seven-times more sign ups than the website's average last year, including driving 2,4000 subscriptions in December 2018—86 percent higher than average.  
And though the platform is a small contributor to overall site traffic, she says the value of newsletters is the loyal audience they create. "Odds are, if you read and engage with our newsletters, you're much more aware of everything that Wired does. But if you only follow us on Facebook or Twitter, those platforms show that the average user only sees 5-10 percent of your posts."
Therefore, by being exposed to more content, Chandrasekhar says that newsletter readers are more likely to want to get past the barrier. Even if they only see one article they want to read in each Daily newsletter, they'll hit the paywall by the fourth of the month.
Because the platform has been so successful with both driving engagement and converting subscribers, Wired launched three new ones since November: One tied to transportation—a topic she says is favored among subscribers—one about Robert Mueller called the Mueller Report and one tied to the Deals section, which capitalizes on the affiliate link revenue stream that Rosenfield has been growing.
"Email is nice because it isn't as controlled by algorithms as other platforms," she says, explaining that it's allowed more room for experimentation, including one-off special editions for cover stories and features, and briefing-style newsletters that keep the reader in their inbox longer—which advertisers like because they spend more time exposed to their campaigns.
Buying into affiliate links 
A small, but steadily growing revenue stream, Rosenfield has been working to integrate more affiliate links both on the site and within newsletters.
"It's still maybe a smaller percentage of the overall number because it's a new business for us, but I can tell you that it's promising. It's been growing really well for us," he says.
While Rosenfield says that retailers approach his team with partnership opportunities regularly, editorial drives affiliate decisions. 
"I think one of the ways that we like to think about affiliate links internally is, yes, they're a great revenue stream, but at the end of the day, if a reader is encountering a review of a product, it's really a service to the reader to actually purchase it or see the price and figure out if they want to buy," he says. "I think on any platform where we're talking about products and reviewing them, we want to have that option in the future."
---
---
Making the most of mobile
"If you can get someone in the app, then you're likely to get crazy good engagement, that's generally what everyone sees. But I also think that we're realistic in that you're always going to have a much smaller group of people sign up for that app."
Thompson says the Get Wired app was modeled from New Yorker Today, and shares similarities.
"I wish we had it five years ago," he says. "I think that having an app that is easily accessible on mobile phones, is incredibly fast and is very simple and efficient is a great thing for your power users, the people who want to check Wired everyday."
Metered, the app allows users to access four articles per month before it requires users to pay.
Rosenfield also sees the app as a "playground" for the brand where they can experiment with content more. "We're working to figure out the next version of storytelling, whether that is AR based or VR based, but you'll see us experimenting in that app," he says.
Both Thompson and Chandrasekhar don't expect the app to have a large user base, similar to New Yorker Today's intimate group of readers, but they explain that those who do use the app typically engage deeper with the content there than users of other platforms.
"If you can get someone in the app, then you're likely to get crazy good engagement, that's generally what everyone sees," says Chandrasekhar, who continues that ideally she'd like to see all mobile readers go directly to the app, "but I also think that we're realistic in that you're always going to have a much smaller group of people sign up for that app. We're fine with being in many little experiences right now, especially because there are so many other apps where people can see our stories."
One of those other apps is Apple News. At this point, however, Chandrasekhar says her team is still trying figure out exactly how the Apple News platform will coincide with the paywall.
Right now, unsubscribed users of the app have access to a selection of articles that aren't regulated by a meter, however some of the stories are walled off for subscribers-only. The brand's existing subscribers are able to link their accounts to Apple News to get unlimited access, but for those who subscribe to Wired only on Apple News, they pay $1.99 per month following a one month free trial, which is about double the paywall's entry-level offer.
"We do have a pretty good number of followers on Apple News, but the majority of the Apple News users focus on the Apple News homepage," she says, "If we can appear in those places, we're much more likely to get more views on our stories."
And to get featured, it's up to the audience development team to pitch a selection of articles each day to Apple News' editors, who then decide if those articles are comparatively the best within their subject or category.  
"For Apple News, we know that they're going to get the big stories about Trump and Cohen and politics from the New York Times, CNN and Politico. When we having something really special on that beat, that's when we decide that we're going to pitch a story," she explains. "There aren't as many competitors when it comes to all of those science deep dives and things like that, so we try to pitch those too so Apple sees the full range of what we do."
The biggest thing that Chandrasekhar says Wired can do with its Apple News platform is send out push alerts, something that they aren't able to do yet on the Get Wired app. Responsible for deciding which stories to send out alerts for, as well as how many to send out in a day, she says her team is still testing out different strategies for using alerts and would ultimately like to extend this engagement tactic to other platforms.
"We would love to be able to set up more notification options, like desktop notifications," says Chandrasekhar. "Ideally, it would be easy for people to sign up and get alerts to any section or any author or any topic, but we're pretty far away from that right now."
Freemium offerings
The first OTT channel for Condé Nast, Thompson feels Wired is the natural leader for this platform because of the success it's seen on YouTube with its 3.73 million subscribers.
"With the paywall, we followed The New Yorker. With OTT, we're going first, so I suspect that there is a lot that the other OTT channels, if indeed they come, will learn from us," says Thompson.
And while the success on YouTube and other areas where video is distributed is good, his goal for OTT was to create a place for much deeper engagement with that content, in the way that the refreshed print is aiming to provide a deeper dive into long form features.
This platform is also one of the only ones not paywalled for the brand—at the moment. All of its revenue comes from advertisers, but Thompson says that ideally viewers will begin to pay for that content as well.
Though the programming for the channel is still being strategized, Thompson does note that the platform lends itself to hosting longer interviews, documentaries and series that will appeal to core viewers and might not translate as well on platforms that feature more of the snackable content.
"If you put it on OTT, someone who really wants to understand tech will go on there and watch six of them in a row, and get a similar experience to what you might have gotten if you'd gone to our event last fall," he says.
---
---
Engaging with events
Live experiences bring in approximately 15 percent of the brand's revenue, according to Maya Draisin, head of marketing of the Culture division. They are also comprised of three parts: B2B, B2C and custom events from the Wired Brandlab.
"The Wired events have evolved largely from a sponsorship model and looking at how we monetize a consumer," Draisin explains, unlike Vanity Fair's highly exclusive sponsor-driven events or Pitchfork's consumer driven, music-based experiences.
The multi-day Wired Cafes at Comic-Con and the Consumer Electronics Show, for instance, are the major contributors in the B2B portion, with invite-only access to entertainment industry professionals and marketers trying to discover the new direction for tech in businesses, respectively. Both sponsor-driven, the cafes allow for the industry professionals to take a break from the hectic conventions and interact with the partners through various activations.
And though the CES Cafe was born out of the Comic-Con one, Draisin calls CES "the Oscars of Wired," and it has since grown to include tours of the show's top trends led by Wired editors.
The only ticketed event last year that was also open to consumers was the 25-year anniversary Wired25 Summit, which she says will be reconceived in 2019 and beyond as a new summit, absorbing the old Wired Business conference. Over four days, the summit featured both B2B and B2C activations and experiences, including a career immersion day on day one, and two festival days open to the San Francisco community.
"It was a huge reception from both a consumer and a sponsor standpoint, so we feel like it's worth doing again," says Draisin.
The only other activation that earns consumer revenue is the Wired Store, which is opened 10 days during the holiday season in New York City, and melds together the editorially curated shopping guides with sponsored product placement. Launched each year with a presenting sponsor, the store is not solely reliant on shoppers but is also monetized from partners.
The online version of the store, which is live all year long but promoted only from November through the holidays, also follows a similar model to the affiliate links platform, though the two projects have not been merged yet. 
She continues that regardless of who the event is for, all are aimed at building that same brand loyalty. "In the B2B events, you're really focusing on the thought leadership of Wired and how they can navigate change in their day-to-day business life. Then on the consumer-side, it taps into the elements that anyone comes to Wired for, whether that's product recommendations or cultural coverage."
Overall, Thompson says that the investment across all of these platforms will ideally help offset the losses the industry are experiencing.
"We have one business, which will almost certainly shrink this year, which is print advertising. Three that will almost certainly grow, which are video advertising, subscriptions and affiliate revenue, and one that we hope will grow, which is web advertising."
The post How Wired's Multiplatform Strategy Is Increasing Engagement and Revenue appeared first on Folio:.
How Wired's Multiplatform Strategy Is Increasing Engagement and Revenue