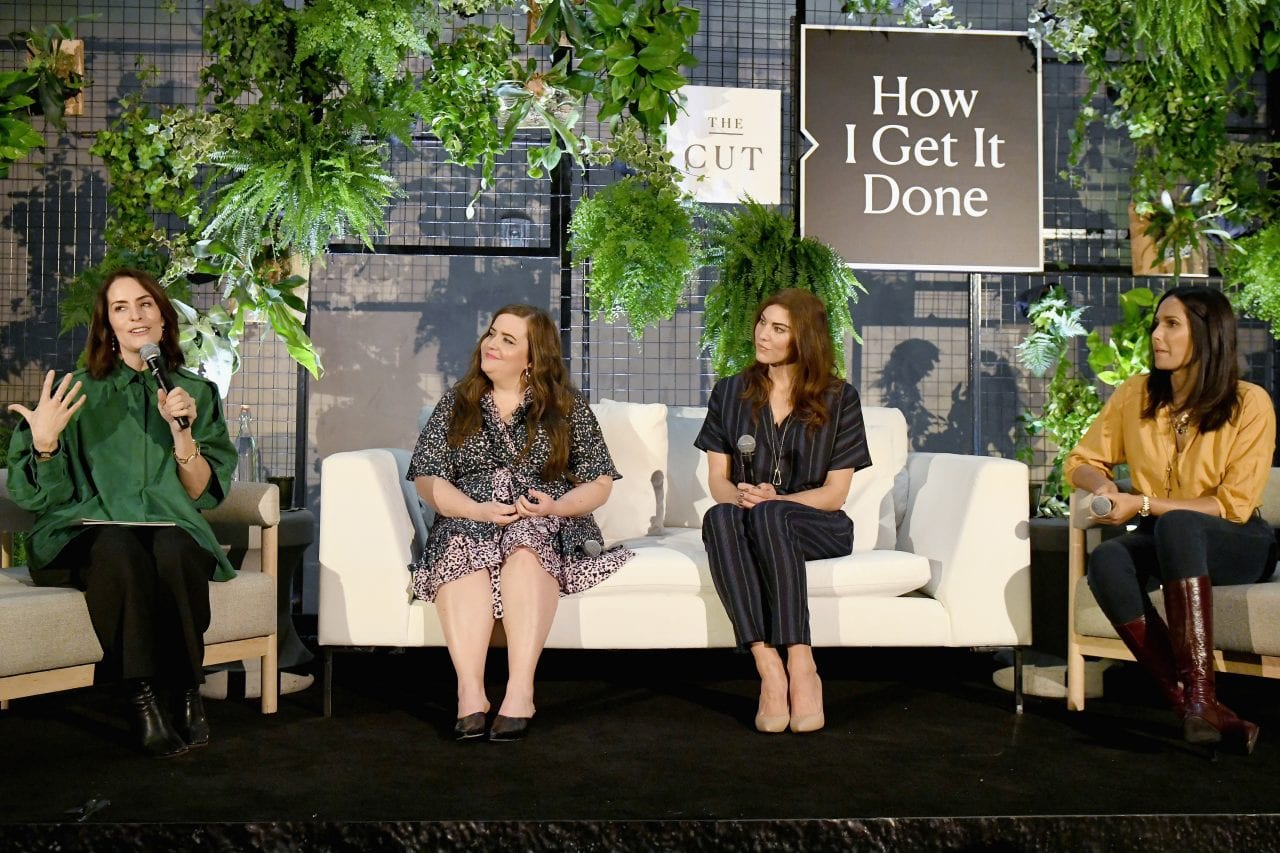 ---
NEW YORK — Held at the trendy, Instagram-friendly 1 Hotel Brooklyn Bridge on Monday, How I Get It Done Day was the Cut's first attempt at taking a reader-favorite editorial franchise-turned podcast and panel series, and turning it into a day-long live event.
However, unlike the surplus of content and conferences aimed at women in the workplace, president and editor-in-chief of The Cut Stella Bugbee said that the How I Get It Done event was meant was meant to provide an intimate setting where attendees could address some of the more pervasive topics for women, addressing both the broad and niche concerns that people can face at different stages in their careers—which is where the day's customization aspect comes into play.
Prior to the event, a questionnaire was emailed to registered attendees as a way to gather more information regarding everything from seniority level and job title to what they wanted to take away from the event. The results of which revealed that there was a broad spectrum of people whose interests and questions "ran the gamut," according to Bugbee. 
One woman who was working in marketing for a retail brand mentioned that she was there because she felt unsatisfied in her role and wanted to learn from women who loved their jobs to see if she found any inspiration. Another attendee had built a career in publishing, but was looking for advice on how to grow her side business.
And though the turnout didn't necessarily reflect the Cut's average reader, who tends to be in her late 20s or 30s, Bugbee says "it's really nice to see women in their 60s and women in their 20s because to me, that's the whole point of the Cut—ambitious, interesting, powerful women at every phase of confronting those things about themselves. And maybe sitting at a table and learning from each other."
In the survey, the registrants were asked several questions in order to narrow down which session would be most beneficial to them, including "What's one of the first things you do when you wake up in the morning?" and "Which of the following align with your current career goals?" Once the results were in, it was up to the events team to spend the week leading up to the event creating unique programs for each person.
"We created a concierge team that hand-customized everybody," says Tara Reilly, head of events at New York Media. "They took each questionnaire they received and tailored their schedules to meet their goals and their needs and their interests as much as possible. We also took some of those and added talent and added breakouts specifically to make sure that people were getting out of the day what they needed."
To do this successfully, the event was capped at 150 attendees, with tickets priced at $150 each—all of which sold out within a couple weeks of going live. "We deliberately kept the event small and intimate so that we could make it an active engagement, rather than passive engagement," she added, noting that her team learned that this model was successful for the brand from previous the Cut events.
The format of the day-long conference consisted of a mix of keynotes and mainstage panels—which touched on the broader themes of dealing with stress and rejection and balancing personal goals with career goals—and breakout sessions, four of which ran concurrently and got into the more niche topics of starting a business or working with a business partner.
"We had planned the basic structure of what we were doing before we got the survey results back, but once we got the results, we realized there were certain areas of interest for the audience that were pretty universal," says Bugbee, who explains that even the initial programming was based on what resonated the most with readers from career and work-related content on the site. "Once we got that information, we looked at the programming that we had already established and we were like, how can we actually address people's concerns based on the survey."
The editorial team then reworked the questions for the moderators and gave speakers an overview of the topics audiences were interested in, in order to create deeper dives within the breakout sessions.
---
---
The general sessions, which were aimed at the bigger takeaways that the Cut team felt were applicable to everyone, included an 
opening panel with "
Saturday Night Live" 
cast member Aidy Bryant, Olympic gold medalist Hope Solo and author and "Top Chef" host Padma Lakshmi, who discussed how they continually pushed forward in their careers, despite dealing with rejection, inequality and feeling like they need to prove themselves to their male counterparts.
"I felt imposter syndrome for a long time on 'Top Chef.' I was really nervous that I wasn't going to figure out how to work a sous vide machine or something dumb like that. And I hate sous vide meat," said Lakshmi.
Later on in the "Realizing Your Vision" panel with Natasha Lyonne and Greta Lee, actresses and writers currently working on the new Netflix series "Russian Doll," focused on the topics of working as a team and dealing with doubts as women and minorities in the workplace were prevalent themes. "The female experience for me has always been: am I enough, and am I too much," said Lyonne.
However, it was the specialized breakouts that the event partner Amazon Handmade, an Etsy-like Amazon extension, was drawn to.
"I got a phone call and within five minutes we signed on to sponsor this event," says Katie Harnetiaux, global head of marketing & category for Amazon Handmade. "It is a great opportunity for us to bring together two like minded businesses. The Cut has always been really empowering and Amazon Handmade is about taking the small, small businesses and being able to give them a larger platform, so for me, it was an excellent fit."
The session that Amazon Handmade presented was called "Starting Your Own Company," which featured two women entrepreneurs, Jenn Tardiff, founder of 3rd Ritual, and Sierra Tishgart, co-founder of cookware company Great Jones, who left their day jobs in tech and as a writer for Grub Street, respectively, to build their companies.
While Tardif's and Tishgart's companies are not currently on Amazon Handmade, Harnetiaux says that both have had very similar experiences to the artisans featured on the site regarding the leap that female business owners have to take in order to launch their companies successfully, which is something that she hears daily from her artisans.
"One thing that really spoke to me is that a lot of these women had to take a day off of work to be here today, so we want to make sure that the content they get is super relevant to where they're at in their lives," she says. "And when I think about my artisans, a lot of the time, they're making things at night, making things on the weekends and so I want to be able to maximize their exposure as well."
And to give those artisans more exposure, Amazon Handmade also contributed three specially made products for the event from the marketplace to go into the Strategist pop-up shop, which provided the gift bags for the event.
Coming out of the event, the general feelings towards the customized schedules seemed to be positive, with one attendee mentioning while flipping through the event schedule that it was a good thing the concierge team pre-selected the sessions she would be attending, as all of them looked appealing and it took the pressure off of her from having to choose. Another attendee also remarked that the sessions she was placed in were actually ones that she would have selected for herself and was impressed in how specific they were to her career goals.
However, not all guests were completely satisfied. During the "Starting Your Own Business" panel, one guest who had already created her company and had been running it for over five years, wondered why she was placed in a session where the speakers had comparatively less experience than she did, them having only recently launched their businesses themselves within the past two years. Others expressed that they wished they were able to attend other sessions as well either because of the talent speaking in a concurrent session, or because the subject matter seemed more interesting to them.  
"There wasn't enough time to do everything we wanted to do, so [customized sessions] helped us make sure that we can do more and cover more bases for people," said Bugbee in an earlier conversation when we were discussing the beginning stages of planning the event. "It's not an overwhelming amount of choice—it's just a little bit of funneling."
The post Inside The Cut's First Crowd-Programmed, Day-Long Event appeared first on Folio:.
Inside The Cut's First Crowd-Programmed, Day-Long Event