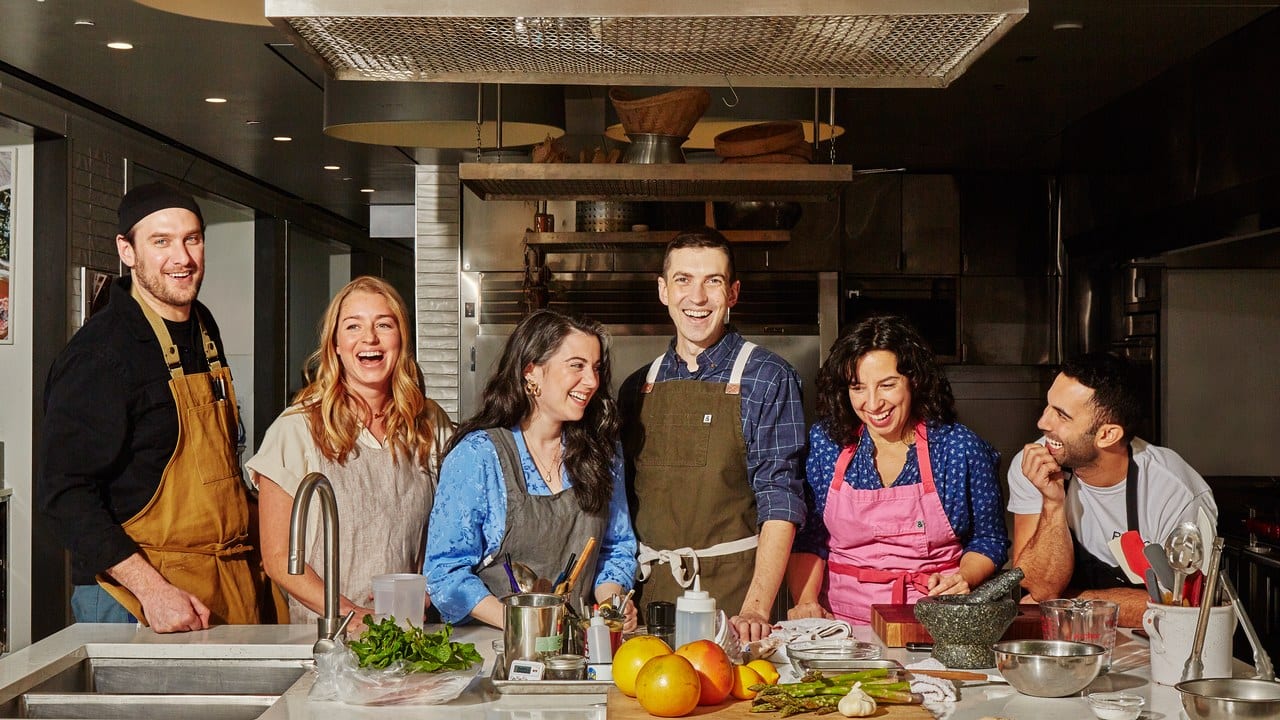 ---
Test kitchens have long played an all-important role as gatekeepers to shelter and food magazines—the grounds on which all recipes must prove themselves before publication.
But far beyond just reader-submitted dishes, magazine test kitchens across the country are now cooking up business opportunities for their increasingly digital-savvy parent brands.
In Birmingham, Ala., Meredith Corp.'s three-year-old Food Studios boasts some 28 test kitchens, 13 photo and video studios and a separate tasting room that doubles as an events space.
In Milwaukee, Taste of Home's test kitchen recently became the launching pad for a new direct-to-consumer branded coffee line, Taste of Home Roast, which debuted in November.
High above Lower Manhattan, Bon Appétit's test kitchen, which occupies the bulk of One World Trade Center's 35th floor, is the principal filming location for the videos that are becoming an increasingly essential part of the 60-year-old foodie magazine's content mix.
A consistent thread in Bon Appétit's strategy since its 2010 relaunch, says editor-in-chief Adam Rapoport, has been a focus on integrating its editors' and test kitchen chefs' personalities into the magazine's content, something that naturally lends itself to video shot on-location in the kitchen.
On the brand's YouTube channel, videos starring Claire Saffitz, of the generally unscripted "Gourmet Makes" series, are shot against the backdrop of an active kitchen operation, in which other chefs can be seen busying themselves with their own projects and often interacting with Saffitz as she works.
"It started out as a necessity that we shoot everything in here, because this is the space we had, but it became our best asset," Matt Duckor, VP of video at Condé Nast, tells Folio:. "What happens when you take 'The Office' and combine it with 'Iron Chef,' and then put it in One World Trade Center, is you get the Bon Appétit channel."
---
---
The setting provides a sense of looseness and authenticity that's allowed Bon Appétit to form a strong connection with its YouTube fans—engagement the brand now aims to capitalize on with a new OTT streaming network, launched on February 19.
"I think as viewers, we all went from our TV's to our phones and iPads, and now with Netflix, Hulu, Roku, we're sort of circling back to our big screens," says Rapoport. "So [OTT] is a logical platform for us to be on, and it dovetails with our own content going from short, two- to three-minute videos, to 15- or 25-minute shows, and thankfully Condé Nast was willing to invest in it to make it happen."
"We saw white space, in a space that was very crowded, to build personality-first concepts that are really entertainment through the lens of food," adds Duckor. "When Adam and I started talking about video a few years ago, his whole mission was to 'celebritize' the test kitchen. One of the advantages with food is that the personalities have an actual skill that they can demonstrate."
The YouTube metrics, Rapoport says, indicated an appetite for longer videos, with users frequently watching for 20 or in some cases 30 minutes at a time. What's more, Bon App found that one-fifth of its YouTube viewership was already watching the channel on their televisions, via Roku or video-game consoles or some other device.
The new streaming channel features the brand's existing YouTube content, in addition to new shows that will debut on the channel, like "Goin' Places," a travel-oriented extension of Brad Leone's "It's Alive" series. A new show starring Saffitz, "Baking School," is set to debut in March. New episodes will be exclusive to the streaming channel for 30 days, before going up on YouTube.
"It's an open border policy," Rapoport says. "Theoretically, the same fans can go back and forth depending on what device they have in their hand or where they are. On the app, we're trying to create shows that feel more like shows, something that you're used to watching on your television."
Tested and approved
As part of Taste of Home's relaunch last Fall, chief content officer Beth Tomkiw says that Bonne Kintzer, CEO of parent company Trusted Media Brands, tasked the team with putting together a brand vision that explored opportunities "outside of the traditional media spaces that we're in."
A study that looked at both Taste of Home's existing print and digital audiences, as well as the general population, indicated an opportunity to do more around coffee, so the brand launched a line of coffee roasts marketed as "Bean Tested and Approved" by the magazine's test kitchen.
"One of the things that is very exciting is that we have so much data at our fingertips to make really amazing decisions around the brand," Tomkiw tells Folio:. "We saw that there was a lot of interest in content that involves coffee, whether it was the appliances we were reviewing, or the recipes that had coffee as an ingredient."
Over a three-day period, Taste of Home's editors and test-kitchen pros conducted a series of blind taste tests to determine the three roasts with which the line would be launched—one mild, one medium and one bold.
Debuting alongside the magazine's November issue, the program includes a free sampling period after which consumers will receive one 12-oz. bag of coffee for $18 per month.
Apart from an an established cookbook business and a quarterly subscription box program, Taste of Home doesn't have an extensive history of selling products directly to consumers, but Tomkiw says that with the brand reaching millions more consumers online than it ever could in print, the time was right to pursue such an offering.
"The great thing about coffee is that people who drink it tend to go through their supply pretty quickly," she adds. "We could sell it as a one-off, but we felt that the program was more likely to scale if we could bring someone into a program that could conveniently deliver them coffee on a regular basis. And on the business side, obviously, it is just much easier to predict how scale will work for us with a monthly subscription."
In Alabama, a sprawling content hub
With 45 full-time employees—from recipe developers to food photographers and stylists to on-air video talent—Meredith Food Studios is perhaps the most dramatic example of the changing role of the test kitchen; director Alison Lowery describes it as simultaneously a test kitchen and photo studio—a resource for brands across the company's portfolio.
"We have specialists in many areas, including bread-making, pastry, grilling, health and nutrition, that brands can tap into for content," Lowery tells Folio:. "We also utilize our proximity to a state-of-the-art video studio to create digital-first content in rapid fire turnaround. As a historically print-focused company, we needed to speed up lead times for digital demands, so we quickly established a way to produce content to respond to trends. We can now ideate, develop, photograph and shoot a food videos in one day."
The multimillion-dollar, 40,000 square-foot Birmingham space, intended to meet increased demand for food content, with kitchens located steps away from photo and video sets so that dishes can be shot mere seconds after leaving the oven.
Food & Wine's move south to Alabama in 2017 to join then-Time Inc. titles Southern Living and Cooking Light, says Lowery, further incentivized visits to the facility by professional chefs, which yields opportunities for video and editorial content as well as insights into new trends in food.
"Our showcase kitchen is a highlight of the space," Lowery adds. "We use the fully-functioning kitchen for photo and video shoots, but more often we host visiting chefs and demos for our staff."
The bottom line
Lowery says Meredith Food Studios' wide breadth of expertise, coupled with its studio capabilities, has yielded particular success with work produced on behalf of advertisers. Working with Meredith's New York-based branded/native content unit, The Foundry, Lowery says the studio tripled its branded content business last year.
Like its YouTube channel, Bon Appétit's OTT network, one of three planned by Condé Nast (Wired was first; GQ is forthcoming) is free to access and monetized with advertising.
In addition to product integrations in the shoots themselves for clients like GE's Café Appliances, videos typically include short pre-roll or mid-roll ads. Duckor adds that in the future, Bon App plans to experiment with "custom pre-roll," short pre-roll ads shot on clients' behalf and featuring the brand's talent.
"People will watch pre-roll," Duckor adds. "They're getting premium content for free, so they understand the exchange and how that works. It's been pretty amazing to see the community embrace us, a media brand, because we have these individual personalities."
Unlike with YouTube, however, the obvious attraction to OTT is that there is no revenue share involved, but Duckor says the streaming channel is as much about tomorrow's strategy as it is about today's bottom line.
"The OTT market is so nascent that one knows what the structure is going to end up looking like," he adds. "Disney is going to do something interesting this year, Netflix continues to invest tons of money. So there will be huge players at the top, and then I think there's going to be a tier of more niche, specialized apps. Larger forces in the industry are going to dictate how people consume content, so for us it's like, let's get in the space and understand what the audience responds to there so we don't have to play catch-up three years from now."
Similarly, Tomkiw views Taste of Home Roast as the first experiment within a broader shift for the magazine's business model, which she describes as "content-driven commerce." A line of cookware and bakeware is forthcoming, as well as a line of cast iron equipment.
"We asked ourselves where else we could be, and branded merchandise was one of those areas of opportunity," she says. "You have to be very careful and respectful, but we really know that our audience trusts us. So when we're putting our products into our content, we're making sure we do it in a valuable way."
Like all brand extensions, the key factor remains, as always, staying on-brand.
"If something is not interesting, if it's not a little bit funny, if it's not pointed or opinionated, I'm going to say something—whether it's our Instagram feed or our podcast or an event we host or a video or a magazine article," says Rapoport. "You just have to be vigilant about it and constantly be pinballing from platform to platform to keep an eye on what everyone is doing."
"The food space is crowded and we have to be thoughtful about where we fit in," adds Tomkiw. "Taste of Home has been kind of known as a recipe book in the past, and see an opportunity for the brand that is unique in the space. We have over 250,000 recipes in our database that have come from families who are willing to share with us, so we're working on something around that which fits nicely with the brand direction."
The post Test Kitchens Whip Up New Revenue for Food Mags appeared first on Folio:.
Test Kitchens Whip Up New Revenue for Food Mags