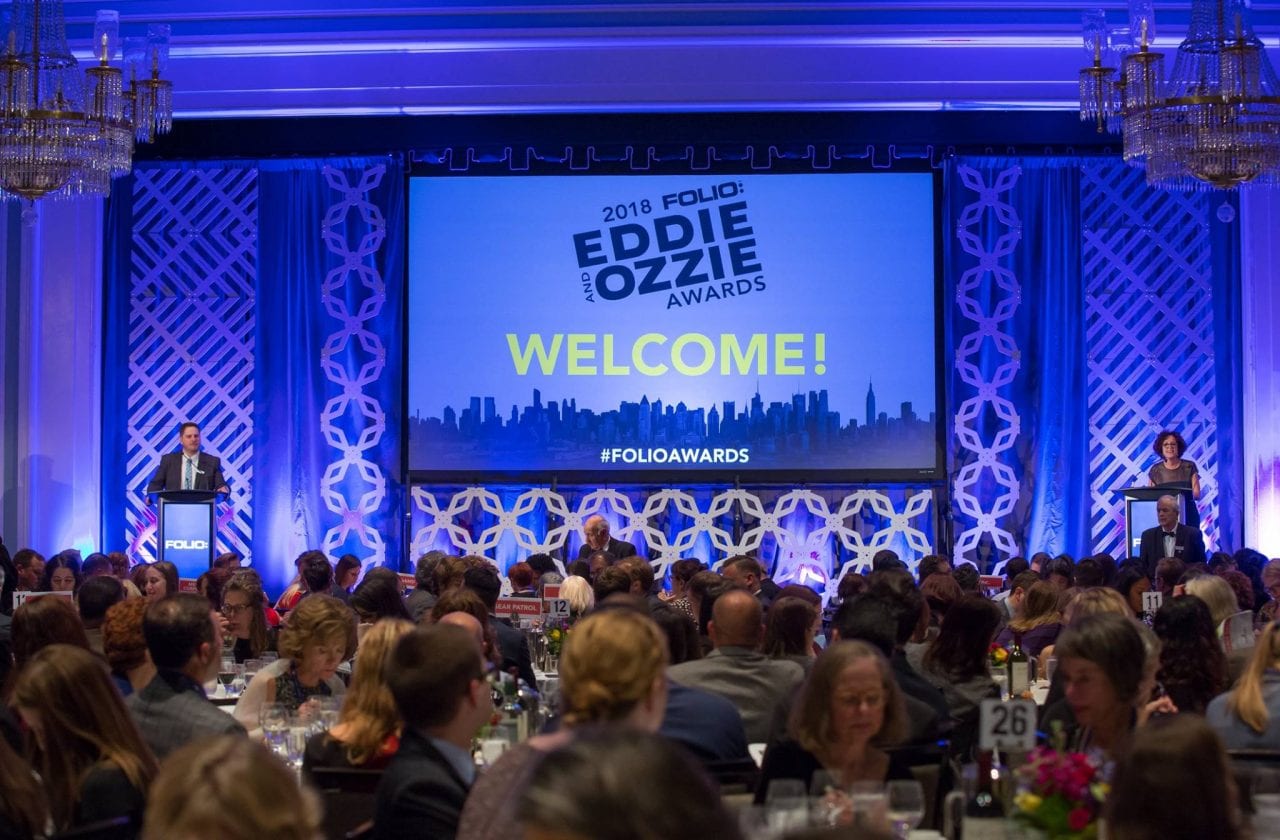 Last year, we introduced a brand new honor at our Eddie & Ozzie Awards gala—Magazine of the Year. Despite many of the challenges print faces, magazines continue to evolve and change in tandem with the industry, and we felt it was important to recognize the very best in our community. And although Folio:'s mission has grown beyond our initial 1972 pledge to be "The Magazine for Magazine Management," print media is still a core part of our DNA, and we are excited to announce this year's five finalists, as well as the winner on the evening of October 30th.
Our Eddie & Ozzie Awards are the most inclusive in publishing. The program honors the innovative and engaging editorial and design work (across every platform) happening in every corner of our industry—from four-figure circulation titles being created in a basement, to mass consumer brands with more than 20 million readers, no title is too big or small for the Eddie & Ozzie Awards.
The inaugural Magazine of the Year winner was ESPN The Magazine, which has unfortunately since decided to cease its print magazine. However, that doesn't diminish the incredible magazine it was for 21 years, and we are proud that we got to recognize it for its outstanding work in its penultimate year. So while we must sadly say goodbye to one magazine, now we get to celebrate a handful of titles that remind us that there is still plenty of life in print, and plenty of reason to celebrate its unique qualities.
Here are this year's finalists:
Afar

Editor: Julia Cosgrove
Creative Director: Taylor Le
This is the second straight year Afar has been nominated for this honor, and it's no wonder why. Few magazines do a better job of blending immersive design and content, which take readers on the journeys featured in each issue.
Afar is also nominated for an additional 12 Eddie & Ozzie Awards this year.
---
Baltimore
Editor: Max Weiss
Creative Director: Amanda White-Iseli
While many city and regional publications focus on lifestyle and local culture, Baltimore not only does that, but also takes on heady journalism topics and nails it. A perennial winner of several Eddie & Ozzie Awards, this year Baltimore continued to push forward as one of the best magazines in the U.S.
Baltimore is also nominated for additional 15 Eddie & Ozzie Awards this year.
---
Consumer Reports
Editor: Diane Salvatore
Creative Director: Matthew Lenning
Consumer Reports proves, arguably better than anyone, that magazines can provide a valuable service. The magazine has been selflessly informing consumers for decades, and has shown an unwavering dedication to impartial reporting. But it also hasn't rested on its laurels, and its magazine and digital properties are constantly evolving—not only by pushing its editorial boundaries, but by improving the design and feel of the print magazine, as well as the overall user experience.
Consumer Reports is also nominated for an additional nine Eddie & Ozzie awards.
---
Harvard Business Review
Editor: Adi Ignatius
Creative Director: John Korpics
Harvard Business Review is a unique magazine within the business category. Its mission statement makes that clear when it emphasizes its purpose to "inspire and nurture the human spirit." The magazine does that by producing not only thoughtful, and insightful business journalism, but presenting it in highly engaging, and impactful ways.
Harvard Business Review is also nominated for an additional eight Eddie & Ozzie Awards.
---
Travel + Leisure
Editor: Jacqueline Gifford
Art Director: May Parsey

For years, Travel + Leisure has been a juggernaut in the travel and luxury space. Each page of its magazine is thoughtfully produced and takes its readers on a journey with excellent writing and stunning photography. Travel + Leisure not only understands who its readers are, but exactly what they want.
Travel + Leisure  is also nominated for an additional eight Eddie & Ozzie Awards.
See the full list of this year's Eddie & Ozzie Award finalists and Hall of Fame inductees. 
The post The 2019 Magazine of the Year Finalists Announced appeared first on Folio:.
The 2019 Magazine of the Year Finalists Announced