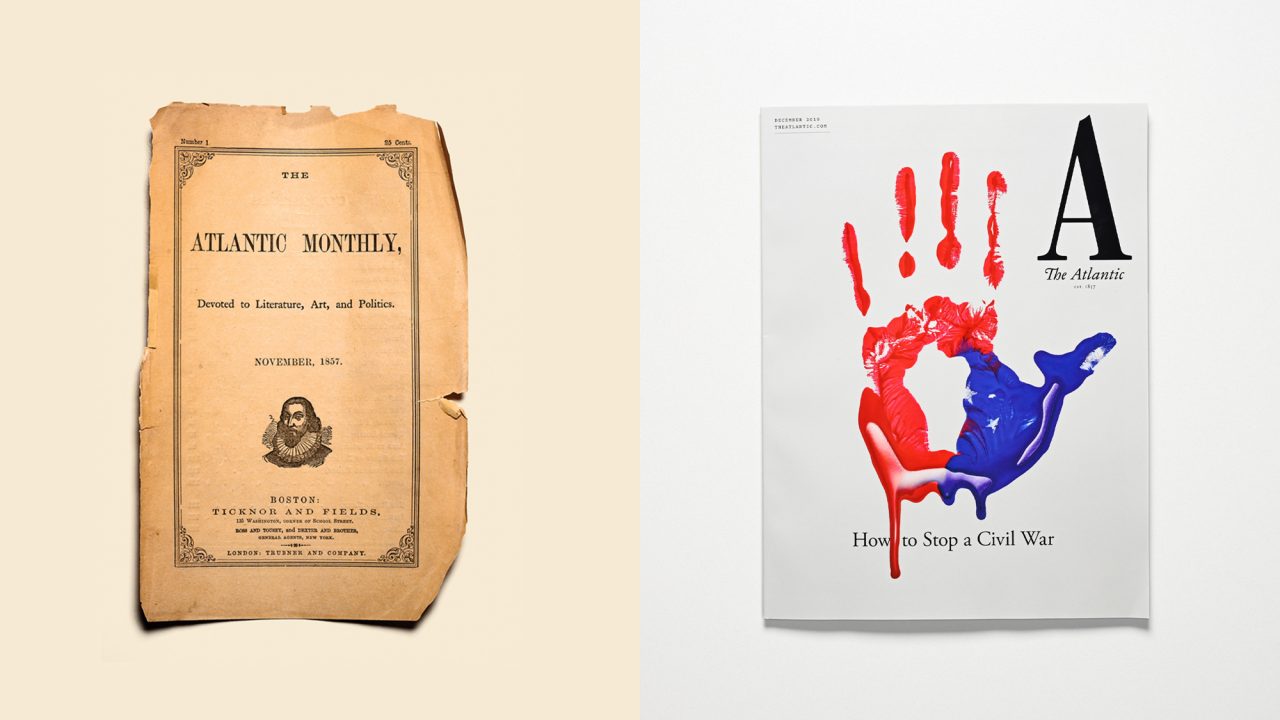 Two months into life behind a digital paywall, The Atlantic says it sold "record numbers" of subscriptions in both September and October, doubling the amount of sales originally forecast (though it declined to share specific figures).
Today, the magazine unveiled what it hopes will be an additional draw to consumers: a single-themed December issue, "How to Stop a Civil War," which debuts a front-to-back redesign in the works since Peter Mendelsund and Oliver Munday were brought in as creative director and senior art director, respectively, at the start of the year.
Most immediately noticeable about the new look is the fact that the formerly prominent wordmark on the magazine's cover has been replaced by a simple "A," which is simultaneously a departure but also a nod to the magazine's past; it contains a reference to 1857, the year of The Atlantic's debut issue, and the magazine says it commissioned a new typeface, "Atlantic Condensed" based on the original type used by its founders.
"I wanted the design to be readerly. And I wanted it to feel confident. And, again, I wanted to make pages that weren't clamoring for your attention in too many ways—that allowed you to enjoy that one-to-one experience, reader-to-writer," said Mendelsund, describing the approach he took to the book's interior.
"The idea of imagery in magazines for decades now has been that bigger is bolder. But I find that when a picture has a frame around it, it allows you to focus more on the thing itself. And the primary job here was to make sure that the reading experience was vibrant, interesting, and less interrupted."
A full Q&A between Mendelsund and editor-in-chief Jeffrey Goldberg can be found here.
Hearst Magazines staffers are unionizing…
Meanwhile, a "strong majority" of the approximately 500 editorial, video, design, photo and social media staffers at Hearst Magazines have voted to form a union, the Writers Guild of America, East announced Monday.
The Allentown Morning Call—which says Hearst employs about 90 staffers in nearby Upper Saucon, Penn. for Popular Mechanics and some of the former Rodale titles—reports that organizers reached out to fellow staffers via text last week, quickly realizing they had enough votes to form a majority.
An open letter attributed to the Hearst Magazines organizing committee said that "media's rapidly changing landscape means it's more important than ever for us to have a say in the conditions of our employment," adding that "it has become standard for companies to recognize employee unions through a fair voluntary recognition process."
In addition to competitive salaries, equal pay and fair parental leave, the letter calls for a greater focus on "diversity and inclusion in recruiting, hiring, promoting, leadership decision-making, and addressing issues within the company itself," greater transparency around business decisions that directly impact staffers, "a clearer policy regarding intellectual property rights" and, with regard to editorial standards, "a clear division between editorial and advertising" and "a transparent e-commerce strategy."
Hearst Magazines didn't immediately respond to a request for comment.
The announcement follows similar union drives at other magazine publishers since the start of 2018, including at Fortune, The New Republic, New York magazine, and three Condé Nast titles: Ars Technica, The New Yorker and Pitchfork. Other staffs, such as those at Consumer Reports and Time, have long been organized with the NewsGuild of New York.
Unlike those efforts, Hearst's staffers are organizing with the Writers Guild of America, and the union would purportedly span 24 different magazines and digital brands. Others who have organized with WGA East include editorial staffs at Fast Company, Slate and Vox Media, as well as ABC News and CBS News.
"The issues we want to address as a union are universal and aren't subject to brand by brand," Harper's Bazaar features director Olivia Fleming told The Daily Beast. "Around overarching themes of transparency, diversity, having a seat at the table. I think those are issues that extend from Road & Track to Cosmo to Elle to Bazaar to Men's Health."
The full WGA East statement can be read here.
The post The Atlantic Redesigns Across Platforms; Hearst Magazines Editors to Form Union appeared first on Folio:.
The Atlantic Redesigns Across Platforms; Hearst Magazines Editors to Form Union